Where is God?
(Posted to this site on 12/22/2006)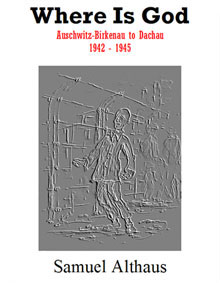 Where is God?
Auschwitz-Birkenau to Dachau 1942 -1945
by Sam Althaus
Permission to reproduce the entire book was granted by Sam Althaus
All Rights Reserved. Copyright © 2000 Samuel Althaus
No part of this book may be reproduced or transmitted in any form or by any means, graphic, electronic, or mechanical, including photocopying, recording, taping or by any information storage or retrieval system, without the permission in writing from the author.
Cover illustration © 2000 B. Basnight
---
"Where is God?" by Sam Althaus chronicles his eye witness experiences before, during, and after the Holocaust. He asked that question while he was confined to Auschwitz-Birkenau, but he now understands that the atrocities were committed by evil people who were exercising their God-given free will to choose behavior.
We learn about his suffering. We also learn about the rare SS Officer who actually helped the prisoners. Each person's attitude was crucial for survival. Mr. Althaus states that "The agony was just too much to handle. You couldn't change the circumstances but you could change how you reacted to the circumstances". In the words of Mr. Althaus, "It's amazing that we managed to live".
Not only did he survive, he also thrived. This writer has had the privilege of eating outstanding food at the Althaus Delicatessen. Mr. Althaus also won victory over the Nazis by getting married and having a family of his own. He was not exterminated; he did his part in assuring the continuation of the Jewish people.
Mark Nataupsky, Ph.D.
Founder and President, Holocaust Education Foundation, Inc.
and this Holocaust Teacher Resource Center
Contents