The Malach Family
(Reposted to this site on 2/11/2004)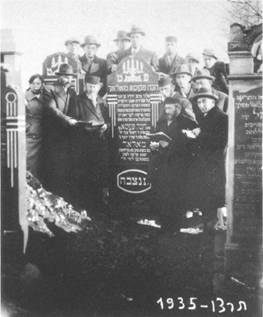 The Malach family is remembered by friends and neighbors, Regina and Jenny Oksenhendler Eisenstein, two sisters who married two brothers:
The Malach family lived across the hall from us. They were very fine, honest people, I remember them very well. They had a factory of kishkes and kosher sausage, a factory for cleaning the meat. I saw the Malach family almost every day, because we lived together on the same floor. They were very religious Jews. They were also very Zionistic, members of HaNoar Ha'Tzioni. They were very good people.
The matriarch of the Malach family was Chana (Hannah), whose virtues are extolled on her gravestone for her intrinsic goodness and piety, and also for her position as daughter and wife of respected rabbis. The photo, taken during the year following her death, probably marked the unveiling of her gravestone. Jews do not erect a stone immediately after burial, but wait a period of time, most often until the eleven-month period of mourning is concluded. Here the date of death was October 1934, and the tombstone was erected sometime in 1935. This exceptionally descriptive and lyrical gravestone reads as follows:
Chana Pessa Malach

Streams of water fall from our eyes over the death of our beloved mother, this righteous and pious woman, daughter of a good family [Bat Tovim means literally, "Daughter of the Good"] who was known [both "good" and "known" are plural, indicating that both the woman and her family were known for their goodness] for charitable work with the poor and the destitute/unfortunates [literally, kapa parsa-her palm [open] to the poor], a woman who always welcomed all people with her beautiful countenance [literally, "receives every person with a beautiful expression on her face," a radiant face implies being very hospitable].

Mrs. Chana Pessa, the daughter of our teacher and our Rabbi Raphael Zvi, of blessed memory, the wife of our teacher and our rav Rabbi Aaron Joseph Malach, died in a good name on the twenty-first day of Cheshvan 1934,* in the 76th year of her life.
*In the Hebrew calendar, the twenty-first day of Cheshvan in the Hebrew year 5695 corresponded to October 30, 1934 Translation thanks to persistent efforts by Miriam Bisk, with contributions from Tamar Adini, Leonard Bisk, Jeffrey Dekro, David Sternman, and Leon Wieseltier.