Stolen Childhood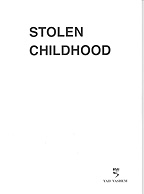 The materials contained on this page are reproduced with the permission of Yad Vashem, The Holocaust Martyr's and Heroes' Remembrance Authority.
Highlighted text in the table of contents represent documents present on this site. Other listings are available and may be ordered from the publisher.
You may order these documents by Email from Yad Vashem.
Complete the Email by stating the items(s) you want to order.
Yad Vashem will reply with the costs and mailing instructions.
---
A study unit that acquaints youngsters with the world of the children who crew up prematurely due to the Nazi occupation, assumed adult roles, helped support their families, and aided the inhabitants of the ghetto.
The unit familiarizes pupils with the world of Jewish children in various communities in Poland before, during, and after the war, using authentic personal stories to elicit sympathy and understanding.
The unit comprises a teacher's manual, a student workbook, and a videotape. The teacher's manual provides historical background, suggested class activities (separately for grades 5-6 and 7-8), and a collection of testimonies.
The workbook contains background material on Polish Jewry, on the Nazis' policy during the occupation of Poland, and on the ghettos in Poland during the occupation, and testimonies about each phase, till the deportation of the Jews to death camps. Questions and assignments are included for each chapter in the workbook. The videotape presents 30 minutes of testimonies of three survivors who lived in the ghetto as children, along with documentary film clips and photographs.
---
"STOLEN CHILDHOOD"
Modular Teaching Unit on Life in the Ghetto
Suitable for Grades 5-8
Naomi Morgenstern and Carmit Sagie
Yad Vashem
The Holocaust Martyrs' and Heroes' Remembrance Authority
The International School for Holocaust Studies
---
Contents
Teacher's Booklet
Student's Workbook
Videocassette
In the teacher's booklet:
Historical background, suggested class activities for 5-6 grades and 7-8 grades, collection of testimonies
In the student's workbook:
Testimonies of survivors who had spent their childhood in Poland before the Holocaust — accounts of life in Poland when the Nazi occupation began and the transition to life in the ghetto
Assignments for students
On the videocassette:
Testimonies of three survivors who had been children in the ghetto, along with photographs and excerpts of documentary films
---
Goals of the Unit
Acquaintance with the world of Jewish children in Jewish communities in Poland before the war, imparted by means of authentic personal accounts that evoke empathy with the narrators.
Acquaintance with the world of children who grew up prematurely under Nazi occupation — children who assumed adults' responsibilities, helped support their families, and helped the ghetto inhabitants.
Acquaintance with the circumstances under which many Jews attempted to maintain the structure of family and community life in the ghetto, even though the German occupation had terminated the course of normal life.
TABLE of CONTENTS