Hannaleh's Rescue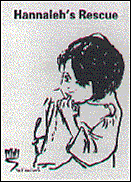 The materials contained on this page are reproduced with the permission of Yad Vashem, The Holocaust Martyr's and Heroes' Remembrance Authority.
Highlighted text in the table of contents represent documents present on this site. Other listings are available and may be ordered from the publisher.
To order this document EMAIL for the Yad Vashem order form.
---
This study kit includes a videotape, a booklet and pictures and is meant for children in the elementary grades.
The videotape was filmed in an art class. The teacher tells his students the story of Hannale and her family from the time they moved to the ghetto until they escaped to the other side of the ghetto walls.
The teacher's story is accompanied by drawings made by Jews who were there. The booklet includes an explanation of the program, a historical review, and ideas and suggestions for student activities after viewing the film.
The pictures are photographs of eight drawings from the film, wrapped in clear plastic and appropriate for children.
---
[one_third]
"Hannaleh's Rescue"
Teacher's Handbook

Yad Vashem
[/one_third] [two_third last]
CONTENTS

Teaching Holocaust Themes in Elementary Schools
Historical Review
Chronology of the Holocaust
Suggested Activities with Children
Topics for Discussion with the Children
List of Illustrations in the Kit
Questions and Answers[/two_third]
TABLE of CONTENTS