Facing the Lion: Memoirs of a Young Girl in Nazi Europe
(Posted to this site on 7/5/2000)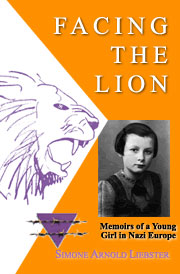 by Simone Arnold Liebster
Published by Grammaton Press
Facing the Lion is an autobiography by Simone Liebster. This is the first memoir of a Holocaust survivor who is a Jehovah's Witness. She details her life before the war and the impact of Nazi oppression on her world. This is a story of standing up for your beliefs in the face overwhelming pressure.
This book is available for purchase online. Click here  to order online from Amazon.
"This book will be an important contribution to the literature on the Holocaust …useful in understanding that the 'sea of terror' extended to other victims besides the Jews."
William Shulman, President, Association of Holocaust Organizations
"…a compelling read. As Simone's daily life changes from the simplicity of her earliest days, we see, with her, the corrupting impact of German occupation. With her, and through her story, we come to put new pictures to the familiar story of the Nazi regime. This is a book to read from cover to cover. It is hard not to be transported into Simone's world and impossible not to understand, through her, something more about the terrible years of the Third Reich. Thank you, Simone, for telling us your story."
Christine E. King, President, Staffordshire University, United Kingdom
"If there had been more people like Simone and her family, more communities like the Jehovah's Witnesses, the Nazis' destructive ways, including the Holocaust, could have been prevented. Their courage is among the few truly bright moral examples during those dark times."
John K. Roth, Russell K. Pitzer Professor of Philosophy,
Claremont McKenna College;
co-author, Different Voices: Women and the Holocaust; and
Approaches to Auschwitz: The Holocaust and Its Legacy
"…well written, …adds to our understanding of the Nazi persecution of non-Jews. A riveting memoir of a young woman's defiance against Nazi persecution."
Jack Fischel, Professor, History Department, Millersville University;
co-editor, Holocaust Studies Annual, author, History of the Holocaust
---
Beginning in the pre-War years in Alsace, France, Simone's story gives a detailed view of her life and the coming of the "lion"-the Nazi party. She describes the subsequent impact of Nazi oppression on her world, her family, her friends, her town, her country. Simone's account provides a close-up view of the persecution and resistance of Jehovah's Witnesses during the Nazi period.
Simone has written Facing the Lion in the hopes that young people will be inspired to face their own lions with conviction, to follow the voice of conscience, and to stand up for what they believe is right. We believe that this book will be a powerful educational tool, useful in exploring the dynamics of peer pressure and intolerance.