Student Workbook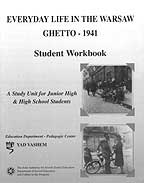 The materials contained on this page are reproduced with the permission of Yad Vashem, The Holocaust Martyr's and Heroes' Remembrance Authority. Highlighted text in the table of contents represent documents present on this site.
You may order these documents by Email from Yad Vashem by selecting ORDER. Complete the Email by stating the items(s) you want to order. Yad Vashem will reply with the costs and mailing instructions.
---
This unit consists of 27 slides, a teacher's manual, a student workbook, and selected relevant documents suitable for cooperative learning groups and long term research projects. The slides are of photographs taken by a German soldier in the Warsaw Ghetto in September 1941. The slides, which capture the unique and little- known reality of the Ghetto's extraordinarily difficult circumstances, and the related readings taken from diaries and other documents, enable students to gain a sense of life in the Ghetto as it was experienced by the Ghetto residents, with its dilemmas, hardships, doubts, and coping strategies. The teacher's manual and the student's workbook are available in Hebrew, English, Spanish, and German.
---
EVERY DAY LIFE IN THE WARSAW GHETTO 1941
A Study Unit for Junior High
and High School students
Edited & written by: Avraham Milgram, Carmit Sagui
& Shulamit Imber
For the edition in English: Karen Shawn
Translated by: Jerzy Michalowicz
Our thanks to Batia Dvir & Riki Bodenheimer
for their help in preparing this manuscript.
First Edition in English, October 1993
ISBN 965-308-024-5
C All Rights Reserved
1993 – Yad Vashem
---
Topics
Reading Passages for slides (1) – (27)
Reading Passages for slide (12)
Reading Passages for slides (13) and (14)
Questions for Discussion for slides (1) – (27)
Questions for Discussion – slides (13) and (14)