A Conspiracy of Indifference
{Posted to this site on 1/9/2002}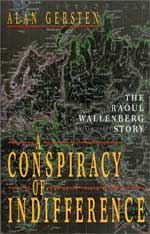 A Conspiracy of Indifference
The Raoul Wallenberg Story
by Alan Gersten
Published by: Xlibris
ISBN #0-7388-6602-4
A book containing new and controversial material about Raoul Wallenberg, a hero of the Holocaust who saved 100,000 Jews, has just been published. Titled A CONSPIRACY OF INDIFFERENCE: The Raoul Wallenberg Story, by Alan Gersten, the book reveals that for half a century the United States, which had recruited Wallenberg, abandoned the Swedish diplomat.
This book is available for purchase online. Click to order this title from Amazon.
This book begins where others end and takes the Wallenberg story to the present day.
Since his disappearance, many tried and all failed to find Wallenberg or pinpoint his whereabouts. His family made impassioned pleas to the highest levels of American government to locate and free him, only to be ignored five times. All attempts to free Wallenberg were perpetually bungled. These included proposed spy swaps and an unusual lawsuit against the Soviet Union that the plaintiffs initially won, but ultimately lost.
The author, Mr. Gersten, an award-winning journalist, spent seven years on this carefully researched book. He examined 1,500 recently released CIA documents and the Swedish-Russian Group reports released January 12, 2001. Mr. Gersten also examined an additional 1,000 documents from the archives of the State Department and the Franklin D. Roosevelt Library in Hyde Park, N.Y. He supplemented archival research with interviews of family members and others connected with the cause-celebre.
Recent endorsements and reviews bolster the opinion that the book is credible, interesting and an important part of the historical record.
The U.S. Holocaust Memorial Museum in Washington, D.C., accepted the book for its bookstore after a rigorous vetting process to insure the book's accuracy.
Guy von Dardel, half-brother of Raoul Wallenberg, recently called the author from Switzerland, saying that "this is an excellent book. It is an important part of our efforts to save Raoul…I am glad that this court case has at last been described in depth."
Wallenberg's half-sister, Nina Lagergren, called from Stockholm to say she liked the book and said it was "most interesting and the title appropriate."
Hal Sacks, for the December issue of Jewish Book World, says "interesting to the non-fiction general reader, (the book) is must reading for the many who have fought and struggled to achieve justice for Raoul Wallenberg for over half a century. Extensive footnotes." With "the complex tracing of persons, dates, documents, rumors, and hypotheses, (the general reader) will in the end be rewarded by a vastly clearer understanding of what appears to have been the shameful abandonment of a genuine hero by our government and its agencies"
Jay Wright, a prominent journalism law professor and Syracuse University's Teacher of the Year 2001, said the Wallenberg story has "built-in conflict, mystery, intrigue, stealth, suffering, devotion to duty, etc." He added that "although the author felt more should have been done (to save Wallenberg), he reported the facts pretty objectively and let the facts speak for themselves."
Jennifer Brody, of the JUF News in Chicago, called it a "carefully researched book which breaks new ground in attempting to resolve questions about Wallenberg's fate."
Annette Lantos, whose husband, Tom, is a Democratic Congressman from California, praised this book. "As you know, Tom and I owe our lives to Raoul Wallenberg. We have fought together to increase awareness of Wallenberg's disappearance and courageous accomplishments. I am delighted to hear that we were helpful to you on your honorable project. My husband and I commend you on a job well done."
More positive reaction to the book comes from Dr. Marvin W. Makinen, a professor in the Department of Biochemistry and Molecular Biology at the University of Chicago, who has been working for about 20 years to try to free Raoul Wallenberg or find out what happened to him. Dr. Makinen helped champion the lawsuit and participated as an expert in the Swedish-Russian Group.
He said, in part, "I am pleased with the level of detail in your book. You will probably be the only biographer of Wallenberg to have traversed the arduous path of details, statements, and events with respect to efforts to take the case into court. I still regret greatly that path which I still believe would have worked, given a sufficiently agile and tenacious lawyer, did not prove to be more successful."
About the author: Alan Gersten, a freelance writer living in New York, won the Loeb Award, one of the highest prizes in financial journalism, for his column on investing as well as the Ciba Gigy award for an in-depth look at a Colorado farm family. He won a fellowship to Columbia University, where he studied economics for an academic year. For further information, contact Mr. Gersten at 718 624-8384.
How to buy it: You can order this book through the Holocaust Teacher Resource Center's link to Amazon.com.