TO THE LITTLE POLISH BOY STANDING WITH HIS ARMS UP
Academy Award winning Ralph McQuarrie, the legendary main concept artist on all three Star Wars© films, and a friend of Peter L. Fischl for 35 years, was the art director on the "Little Polish Boy" poem and the designer of the "And the World Who Said Nothing" poster!!!
Select English to view English translation.
Select German to view German translation.

View the video excerpt of Peter L. Fischl reading his poem
"To The Little Polish Boy Standing With His Arms Up".
This signed poster, printed in French and English is available for purchase from the author. The lesson plan and poem are available for purchase from Peter L. Fischl. Please see below for information how to order copies of the poster/poem. Discounts are available for class sets.
see items available to order | Peter L. Fischl Testimonials

Lesson Plan for Poster / Poem (English):
"To the Little Polish Boy Standing with His Arms Up"
by Judy Leuhm Junecko
Leesburg High School
Leesburg, Florida
©Peter L. Fischl, 1999
Judy Junecko is a 1995 graduate of the Yad Vashem Summer Institute. She is an 11th grade English teacher for honors and gifted students.

Lesson Plan for Poster / Poem (German):
SEIN ODER NICHT SEIN
Ein Unterrichtsplan
Für Peter L. Fischl
Poster/Gedicht:
"Für den kleinen polnischen Jungen der mit erhobenen Händen dasteht" ©1994
Von Judy Leuhm Junecko
Leesbury High School
Leesbury, Florida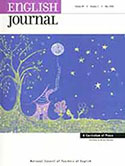 Teaching Empathy through Ecphrastic Poetry:
Entering a Curriculum of Peace
by Nancy Gorrell
A lesson plan suitable for high school students was written by Nancy Gorrell and published in the English Journal.
Copyright by the National Council of Teachers of English.
Access NCTE's web site: www.ncte.com
Reprinted with permission.