To Life
{Posted to this site on October 24, 2002}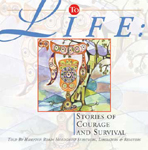 To Life
Stories of Courage and Survival
Told by Hampton Roads Holocaust Survivors, Liberators and Rescuers
The United Jewish Federation of Tidewater is proud to present To Life: Stories of Courage and Survival as told by Hampton Roads Survivors, Liberators and Rescuers. Never will you find a more complete view of the impact of the Holocaust on individuals who lived and fought through it.
As the World War II generation ages and passes on, it is imperative that their experiences remain for future generations to learn from. As the famous saying goes: "those who are not familiar with history are doomed to repeat it." It would be devastating to all of us not to learn from the experiences of the Holocaust. No person should ever be subjected to these kinds of atrocities again.
Two excerpts from the book follow— A Survivor and a Liberator.
The following stories appear in their entirety in the book To Life: Stories of Courage and Survival. They have been scaled down for the purposes of this page, which is to give you an idea of the stories contained within the book.
Rosalia Kats Kaplan – Survivor
…Known by her family and friends as "Lia," Kaplan was 7-years-old when the Nazi army invaded Holland in 1940. She was introduced to the atrocities of war at an age when most children are playing with dolls and learning the alphabet.
…"I didn't want to talk about it for a long time…I just wanted to forget that it happened and get on with my life," Kaplan said. "But the nightmares won't let me forget…and now I dream that it is my children who are having to go through what I did."
…One morning, Lia was grabbed from her bed and told by her parents to put on as many clothes as she could wear. They were all going away for a while. Her flight into the night of the Holocaust had begun.
"Nothing was explained to me…my mother just screamed that I should go and not ask questions. My grandmother was the only person to explain what was happening," she said.
Her grandmother was the center of Lia's world. She adored her grandmother and only agreed to go quietly because "Oma" had assured her everything would be fine.
Kaplan was separated from her family and taken to the home of a local police officer and his young wife. To protect themselves and Lia, the couple had her sleep in a hollowed out section of their dining room wall. Alone and confused, Kaplan remembers crying almost continuously until the couple decided that they could no longer hide her. "My grandmother came and took me back to her house," she explained. "Oma told me that my parents had gone away and she was the only family that I had."
Kaplan and her grandmother remained in the vacant house for only a few days before the local members of the Nazi network discovered the two frightened Jews.
…"I will never forget the way my grandmother gave her life to save me," she said. "As the soldiers burst through the front door, my Oma pushed me down the back steps and told me to run and don't stop. She was blocking the doorway to give me a head start before they started after me. And that is the last time I saw her, standing there so strong and brave. She came out of hiding for me and died for me…"
…From that night in 1940, 7-year-old Rosalia Kats began her nightmare odyssey of survival. "In that type of situation, you grow up fast. You become wise."
…"I don't know what it was inside me that took care of me in those situations. I didn't trust any adults…I thought my parents had left me. I remember one time soldiers finally caught up with me and from three different sides began shooting at me," she whispered. "Somehow, I knew not to run away in a straight line but to zigzag as I ran down the street. To this day I don't know what it was that kept me alive."
…Kaplan remembers the stay in the jails before being deported as the hardest part of her survival. Determined to put an end to the underground [in which Kaplan had become involved as a courier, smuggler and more], the Germans attempted to force Kaplan to confess everything she knew about its activities. Although she was repeatedly beaten, and psychologically abused, she would not give the names of the people who had hidden her. "I have to admit that I really didn't know all the names of those people and because they moved at night I oftentimes didn't know where I was when I was moved," she said. "One thing I did know was that they could beat me forever and I would not have told what I did know."
In December 1944, Kaplan was deported to Auschwitz. She remained there until the allies liberated the camp in April 1945. While in the camp, Kaplan faced one of her greatest challenges; she was chosen to be part of a medical experiment. As a means of preventing the adolescent girls from menstruating, camp doctors forced them to ingest camphor – the chemical used in moth flakes.
"I was never expected to have children and when I did become pregnant the doctors all thought I would not survive," she said. "But I proved them wrong because I wanted to have something of my own to love and to love me back."…
Rocco L. Russo – Liberator
"There have been two days of my life that were both unimaginable and unforgettable," says Rocco Russon, a WWII veteran and non-Jewish liberator. The first was D-Day June 6, 1944 in Normandy; the second was Liberation day at Dachau Concentration Camp…
…"I always thought I knew what I was fighting for," says Russo. "I wasn't raised with guns but I'd seen evil up close and would do anything to stop it. I remember going into Berchesgarten very quickly after it had been captured. All I could think was that I was close to my goal, which was to personally shoot Adolph Hitler. But Hitler was apparently in Berlin. I didn't see Hitler but figured we were beating the hell out of all of the Germans and I fully expected to get home safe and sound, which was my other goal."
Before Dachau, Russo has good reason to think he'd seen the worst there was to see. After all, he was part of the Allied Forces' first successful landing on the European Continent since it had been captured by the Third Reich. He was an original member of the Omaha Beach scene later depicted by actors in the first 25 stomach-turning minutes of the movie Saving Private Ryan…The sweetness of victory and bitter taste of defeat was still fresh for Russo.
"On that night, our colonel interrupted dinner and said 'in case you don't know why you're fighting this war I'm going to take you and show you.' I thought I knew. But never in God's world was I prepared for what I saw in Dachau."…
…"We walked through the gates of Dachau and walked into hell. He did not have to tell us that the terrible stench was from dead bodies. There were more bodies than I could have imagined. We went through the gate and walked about one block up the hard road, turned right and crossed a bridge over a canal. Before crossing the canal we saw a dead Kraut lying on the pavement. His face and head were destroyed by some of the GI's who were outraged by the number of human beings murdered.
"It was a good thing for the Germans that we had not seen this before we started fighting the war in Normandy. I don't think any of us could have controlled ourselves…"
…Later, Russo visited some of the prisoners who were still alive and being treated by American medics. "I will never forget how they greeted us. Even though most of their families had been completely wiped out, they could not stop thanking us for liberating them."
…"I didn't know what a concentration camp was before, but I will always be grateful to the colonel for taking us to see this part of the Holocaust. I will never forget what I saw with my own eyes on that day," he said.
"We liberated 32,000 people. Had we gotten there two days sooner maybe we would have liberated 64,000. But if we were there only two days later, they probably would have all been killed by those cruel Nazi bastards."
---
You may order copies of this book, donating them to a school of your choosing. To do so select: Donate to Schools.
You may order copies of this book directly. To do so select Order.
Alternately you may order copies by selecting Printable Form.
Print the form, complete the information and then mail to:
UJFT—To Life
5041 Corporate Woods Drive, Suite 150
Virginia Beach, VA 23462