To Bear Witness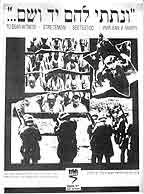 The materials contained on this page are reproduced with the permission of Yad Vashem, The Holocaust Martyr's and Heroes' Remembrance Authority. Highlighted text in the table of contents represent documents present on this site.
You may order these documents by Email from Yad Vashem. Complete the Email by stating the items(s) you want to order. Yad Vashem will reply with the costs and mailing instructions.
---
Posters and resource guide
To Bear Witness is a collection of 20 black and white posters ( 19″ x 27.5″). taken from the Yad Vashem archives. The 39 photographs on these posters present the subject of the Holocaust through historical events, figures, places, and concepts. These include, among others, the rise of Nazism, the formation of the ghetto, the Einsatzgruppen, deportation, the camps, the Warsaw Ghetto revolt, and liberation.
A 72-page soft-cover resource guide, with a brief historical narrative, related readings, suggestions for teachers and student worksheets, is a recommended companion piece.
The resource guide is available in Hebrew, English, French, Spanish, and Russian.
---
TO BEAR WITNESS
AN EDUCATIONAL KIT FOR TEACHING THE HOLOCAUST AND OBSERVING YOM HAHOAH
Material selected and written by: Imber,Shulamit; Ben Shaul,Elinor; Bar-Mor,Shalmi; Lazovik,Yaacov; Milgram,Avraham; Mendelson,Ruthi; Nechemia,Irit; Oved,Ettie; Pedah,Idit; Kaye,Ephraim Keren,Nili; Rapoport,Safira
"YAD VASHEM"
Pedagogic Resource Center-
Education Department
Second edition July, 1994
02-286601
---
TOPICS
INTRODUCTION
WORKSHEETS FOR "TO BEAR WITNESS" EXHIBIT
Posters (1) – (20)