The Huppert Family
(Reposted to this site on 2/11/2004)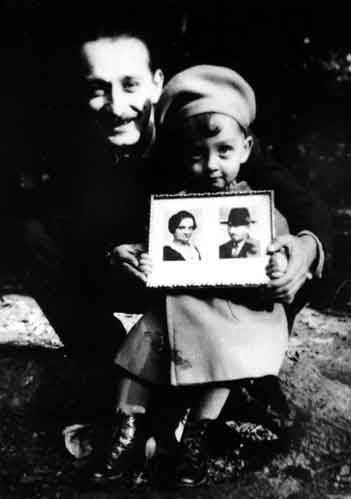 In this visual correspondence, Artur Huppert shows his son, Peterle, the faces of his grandparents.
Though Artur and Peterle are in Czechoslovakia and Rosinka and Jusekl are in Poland , Artur has devised a way to feature all four in the same family portrait. Artur frequently communicated with his parents, Rosinka and Jusekl Huppert, through inscribed photos, in an attempt to share precious moments with the long-distance grandparents. Rosinka and Jusekl lived in Silesia , Poland ; Artur, his wife Crete, and baby lived in Moravia , Czechoslovakia , in the border town of Olmutz ( Olomouc ).
One can see a profound difference in the photos taken of Artur before and after his baby was born. Before his marriage, Artur seemed aware, if not preoccupied, with his striking appearance. Dramatic poses, evocative portraits, and stylish wardrobe characterize the pre-fatherhood photos, and there is a studied, nonchalant look in his pose. But after the birth of his first and only child Peterle, Artur greets the camera with unbridled joy. Now a father, Artur fairly bursts off the page with love and delight in his Peterle (diminutive form of "Peter").
We get to "know" Peterle through the many photos his parents took of their beloved first child. And from the touchinginscriptions, we witness increasing concern over Peterle's welfare.
The inscriptions are optimistic, beginning when Peterle is a baby. The parents wish for his long life, inscribing "his 120″/ "Until 120 years" on the fronts and backs of many photos. The number 120 comes from the association with Moses, who led the Jews out of slavery in Egypt and carried the Ten Commandments down from Mt. Sinai . Moses was 120 years when hedied, and the common Jewish response, "until 120," signifies a wish for health and long life.
As the political situation becomes more serious, so too do the inscriptions. And as Peterle gets older, his parents wish that he did not need to know what "a difficult, bitter world he was born into." From a distant cousin, also named Arthur Huppert, I learned of the family's existence in Czechoslavakia, but it is from the family's photos themselves and moving inscriptions that we learn the Huppert family story.
The inscriptions on these photos are sometimes difficult to understand, not only because the German is awkwardly constructed, indicating that the writer is not a native speaker, but also because these photos are in various stages of disintegration. In many cases, the whole inscription cannot be read because of paper and ink damage.
Because these photographs were found in Auschwitz-Birkenau, it is most likely that the grandparents, Rosinka and Jusekl Huppert, to whom they were inscribed, brought them when they were deported there. Following an impulse mirroring Artur's attempt to construct a family portrait of people not physically together, so too might his parents have tried to surround themselves with tangible evidence of their absent family, by bringing cherished photos of their children and grandchildren with them when they were sent to Auschwitz to die