The Image of Polish Jewry Between the Two World Wars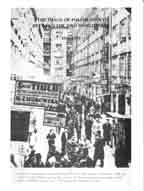 The materials contained on this page are reproduced with the permission of Yad Vashem, The Holocaust Martyr's and Heroes' Remembrance Authority.
You may order these documents by Email from Yad Vashem. Complete the Email by stating the items(s) you want to order. Yad Vashem will reply with the costs and mailing instructions.
---
Curriculum Unit
THE IMAGE OF POLISH JEWRY BETWEEN
THE TWO WORLD WARS
1919-1939
Jewish Political Parties and Movements
Zionists — Haredim — The Bund
Pilot Edition
(Teacher's Guide)
by Ephraim Kaye
Cover photo: Roman Vishniac, A Vanished World, Nalewki St.,
Jewish Quarter of Warsaw — 1938
---
CONTENTS
Goals and Phases of the Unit 1
Preface 4
Phase — Introduction to the Unit
Jewish Demography in 1933
1. Map 1 — Europe Between the World Wars
2. Table I — Jewish Demography, 1933
Centralization of Jews in Polish Cities
1. Map 2 — Poland in the Interwar Period
2. Table II (Parts A and B) — Jews in the Cities of Poland
Sources of Livelihood of Polish Jews
Table III — Sources of Income of Polish Jews
Phase II — History of Poland and Polish Jewry in the Interwar Period 17
Phase III — History of Jewish Political Parties in
Poland during the Interwar Period
Zionists General Zionists
Poalei Zion — Hitahdut
(Zionist Labor Movement)
The Revisionists
Mizrachi –The Religious Zionists
The Haredim ("Ultraorthodox") — Agadath Israel
The Bund
The Assimilationists
Summary Table on Political Parties — for the Teacher 42
Phase IV: Source Material on Jewish Political Parties in Interwar Poland (Including Worksheet)

Zionists
General Zionists
Poalei Zion — Hitahdut
The Revisionists
Mizrachi — The Religious Zionists

Agudath Israel
Summary Table on the Jewish Problem in Poland and the Solutions Offered by Each Party
Phase V — Discussion 75
Summary of the Unit 81
Bibliography 86
Endnotes 87
TABLE of CONTENTS