The Holocaust Encyclopedia
(Posted to this site on 6/1 /2001)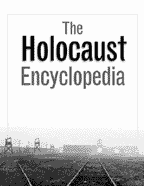 Walter Laqueur, Editor
Judith Taylor Baumenl, Associate Editor
Permission to publish by Yale University Press
More than fifty years after the Holocaust, all those who want to learn from the past still struggle to make sense of this human disaster of unparalleled horror. The hard work of scholars has enriched understanding of the Shoah, especially over the past decade, but their work has been scattered and sometimes inaccessible to general readers.
On April 19, 2001, Holocaust Remembrance Day, Yale University Press will publish its much anticipated The Holocaust Encyclopedia, edited by the eminent historian Walter Laqueur. This affordable, accessible, one-volume work brings together leading scholars from a dozen countries to help put the Holocaust in social, political, and intellectual context.
This important project provides both a reflective overview of the subject and an abundance of detail con-cerning major events, policy decisions, cities, and individuals associated with the Holocaust. Up-to-date and designed for easy use, the Encyclopedia presents thoughtful essays by many leading scholars in the field.
A general understanding of Hitler and Nazism is now taught at the high school level in American schools. But at a distance of five and a half decades, today's students and tomorrow's scholars will need a great deal of empathy, imagination, and information as they strive to understand the murder of millions that scarred the course of human affairs. Yale University Press is proud to bring forward this major scholarly undertaking, which will prove an essential tool for years to come for all readers in search of meaningful confrontation with history.
This book is available for purchase online. Click here to order online from Amazon.
"The Holocaust Encyclopedia is going to be a standard reference work for decades to come, not only for scholars and students of the field but for any general reader interested in the subject. The writing is authoritative without being pedantic, and the volume is eminently readable."
-Lawrence Langer
author of The Holocaust and the Literary Imagination,
Holocaust Testimonies: The Ruins of Memory, and
Preempting the Holocaust
"This encyclopedia is detailed, masterful, and authoritative. It contains new information, and it is both comprehensive and accessible to the public."
-Michael Berenbaum, University of Judaism
"The book reaches beyond facts and details to reveal the depths of the Holocaust experience and its aftermath. It will surely emerge as indispensable for the study of the Holocaust"
-Jehuda Reinharz, president, Brandeis University