TAK FOR ALT Survival of a Human Spirit
(Posted to this site on 10/1/2004)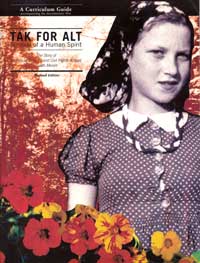 TAK FOR ALT
Survival of a Human Spirit
The Story of
Holocaust Survivor and Civil Rights Activist
Judith Meisel
Permission to publish excerpts from this document given by Laura Bialis, Creative Consultant
TAK FOR ALT
In daily conversation Danes do not use the phrase "Tak for alt." As one Dane; put it, "Those are pretty big words." While the literal translation is "Thanks for everything," the meaning is greater. A more accurate translation is "with deep and profound gratitude for the bounty and fullness of life." The one place in Denmark where the phrase is commonly found is on gravestones.
In Tak for Alt, Judy Meisel returns to Denmark, where she visits the grave of Paula Jensen, the woman who was a foster mother to Judy and her sister after they had escaped to Denmark from Nazi-occupied Poland. On her gravestone are words "Tak for alt."
The film's title, Tak for Alt, clearly states Judy Meisel's profound gratitude and respect for Paula Jensen, for the Danish people, and for those who through selfless action make a difference in the lives of others.
John Mark Nielsen, Ph.D.
Executive Director, The Danish Immigrant Museum, Elk Horn, Iowa
Professor of English, Dana College, Blair, Nebraska
Fulbright Guest Lecturer & George C. Marshall Fellow in Denmark