Return to Life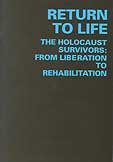 The materials contained on this page are reproduced with the permission of Yad Vashem, The Holocaust Martyr's and Heroes' Remembrance Authority.
Highlighted text in the table of contents represent documents present on this site. Other listings are available and may be ordered from the publisher.
You may order these documents by Email from Yad Vashem by selecting ORDER. Complete the Email by stating the items(s) you want to order. Yad Vashem will reply with the costs and mailing instructions.
---
The Holocaust Survivors: From Liberation to Rehabilitation
"Museumette": Study and Enrichment Unit
The "museumette" comprises:
Twenty black-and-white posters (21″ x 15″) The posters depict the liberation of the Jews, the return of some of the liberated from the concentration camps to Poland, the pogrom in Kielce, life in the Displaced Persons' camps, the Jewish Brigade and clandestine immigration to Palestine, and the mass immigration to Israel after the establishment of the State.
Booklet: Includes an article, excerpts of testimonies, a list of concepts, maps, a bibliography, suggested activities, and questions to facilitate study.
Video Film (60 minutes): Return to Life: Testimonies by Holocaust survivors on their life in the ghetto, liberation, the Displaced Persons' camps, and emigration to Israel.
---
[one_third]
RETURN
TO LIFE
THE HOLOCAUST SURVIVORS:
FROM LIBERATION
TO
REHABILITATION
Beth Hatefutsoth
The Nahum Goldmann Museum of the Jewish Diaspora
Beit Lohamei Haghetaot
Ghetto Fighters' House

Yad Vashem
The Holocaust Martyrs' and Heroes'
Rememberance Authority
[/one_third] [two_third last]
Contents
5 Introduction
6 About the Museum Kit
6 Organization of the Study Environment
7 Subject Matter of the Exhibition
8 Suggested Activities
12 Testimonies
26 Maps
28 Terminology
31 Viewing and Discussing the Film
35 The Survivors of the Holocaust
Anita Shapira and Irit Keynan
[/two_third]