Pack of Thieves: How Hitler and Europe Plundered the Jews and Committed the Greatest Theft in History
(Posted to this site on 2/8/2000)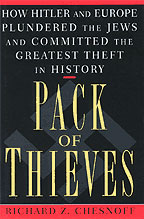 by Richard Z. Chesnoff
Published by Doubleday Books
This book is available for purchase online. Click here to order online from Amazon.
---
"Ordinary language cannot master the ugliness and twisted horror of Hitler's Nazi ideology. But in PACK OF THIEVES, Richard Chesnoff has not only carefully investigated the details of the crime, but with his descriptive pen in hand has created a fascinating story that does not give the reader a moment 's rest. His story of the brutal organized and unorganized robbery that I would say was a relative in the family of murder completes the story of the gas chambers that cannot and must not be forgotten."
Shimon Peres, Former Prime Minister of Israel
"Written with great skill and sensitivity, Richard Chesnoff's book deals with one of the most urgent moral problems of the post-war era."
Elie Wiesel, Nobel Prize Laureate
"An electrifying book that could only have been written by an international journalist of Richard Chesnoff's stature."
Edgar Bronfman, President, World Jewish Congress
---
Several books have already been published about the role of Switzerland, and the Swiss banks in particular, in concealing assets belonging to the six million Jews who were killed in the Holocaust. Richard Chesnoff's new work PACK OF THIEVES (Doubleday; On-Sale: 11/2/99; $27.50) is different in that it proves that the so-called Nazi gold question is part of a broad and profoundly disturbing conspiracy that extended far beyond the Swiss borders. With direct access to hitherto classified files and through exclusive interviews with government and Jewish officials, camp survivors and families of victims, Chesnoff discovered that most of the nations of Europe-Axis, Allied and Neutral-were complicit in a monumental robbery of money, art, and property from the Jews. Now, after four years of exhaustive research, scores of interviews, and investigative trips to fourteen different countries, Chesnoff has produced a blistering indictment of the nations, governments and ordinary citizens who all played a part what he calls "the greatest theft in history." He also offers the first comprehensive account of the battle for restitution that survivors and their families have been waging in the world's courts for the past three years.
Each chapter of PACK OF THIEVES is devoted to a different country, and Chesnoff carefully lays out how these nations systematically deprived Jews of their property, stock, bank accounts, businesses and other assets-either by forcing them to sell at drastically reduced rates or through outright seizure. Once Jews were forcefully deported to other countries, ghettos or concentration camps (in ventures that were often, ironically, funded with their own money), whatever property they had left behind was ransacked, and their remaining possessions were stolen, including paintings, sculptures, antiques, jewelry, musical instruments, furs, family heirlooms and religious objects.
It was looting on a grand scale, and it was carried out not only by Nazis looking to fund the war effort but also by neighbors looking to line their own pockets. "In every nation of Europe where the genocidal Nazi machine dragged Jews away to their death," he writes, "there were upstanding local citizens waiting to loot what was left behind-art dealers in Paris, hotelkeepers in Budapest, stockbrokers in Amsterdam, grocers in Lyons, department store owners in Brussels, manufacturers in Oslo, peasant farmers and housewives from Latvia to Transylvania, and everywhere bankers, lawyers, and financiers-all barely able to contain themselves at the prospect of picking at the bones of their Jewish neighbors."
But that's only half the tragic tale Chesnoff has to tell. After recounting how the Jews were robbed of their assets during the Holocaust, he goes on to describe in heartbreaking detail the obstacles and injustices survivors and their families faced when trying to reclaim their stolen money, goods and properties. Among the stories he includes are those of:
Dutch sociologist and writer Gerlad Durlacher, the only survivor of his entire family, who returned to his prewar home to find strangers living in it. When he knocked on the door of the house next door to ask if anyone knew what had happened, he found his neighbor wearing his father's suit.
Andre Wormser, whose search for his mother's beloved grand piano led him–after being tipped off by a government source about the existence of several storehouses of Nazi goods–to a vast warehouse filled with thousands of pianos taken by the Nazis.
Otto Witrofsky, a Holocaust survivor who was denied restitution by the postwar Communist-controlled Czech government because he'd held an Austrian passport before the war, and was therefore deemed "an enemy alien with allegiance to the German nation."
Leah Weitzner, who survived the Holocaust after her mother threw her from the tiny window of the concentration camp-bound train, but was later unable to retrieve the small family fortune that her cousin had entrusted to a Swiss bank that had assured him it would remain safe during the war.
Estelle Sapir, who could not reclaim her murdered father's bank account, despite possessing extensive details and receipts, because she could not produce a death certificate from Auschwitz.
The statistics are startling, from the more than 7 billion dollars in Jewish assets stolen from Jews in Holland to the more than 10,000 paintings and other art works stolen from Jews and since auctioned off by the government of France. And for the estimated 600,000 aging Holocaust survivors in the world-including some 60,000 in Eastern Europe who have never received restitution of any kind-time is running out. But they are aided by activists and journalists like Richard Chesnoff who are continually forcing this issue onto the agendas of governments around the globe. As he explains in the introduction to PACK OF THIEVES: "Facing up to history-no matter how ugly, no matter how soul-searing-is what this book is all about."