Liberation
(reposted to this site on 1/8/2002)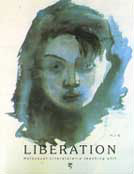 LIBERATION
Holocaust Literature — a teaching unit
Permission to publish excerpts from this document given by
Yad Vashem, The Holocaust martyrs and Heroes Remembrance Authority
The International School for Holocaust Studies
This unit is available in Hebrew and in English.
It is recommended for high school students.
Written by: Rotem Wagner, Inbar Raveh
Consultants: Shulamit Imber, Amos Goldberg — Drorit Neugeboren, Gitta Kleinman — Educational Materials Division
Translated from the Hebrew by: Lisa Katz
English Language Editor: Arieh Saposnik"
"On the Shore" and "Love Story"originally appeared in Hebrew in Smoke (Achshav, 1962). Translation from the Hebrew: Lisa Katz.
The English translations of 'The Tenth Man" and 'The Shelter' originally appeared in A Scrap of Time; (Northwestern University Press, 1995). Translation from the Polish: Francine Prose and Madeline Levine.
The English translations of "Nocturnal Variations on a Theme," "Henryk's Sister," and "Birds" originally appeared in Traces (Henry Holt, 1997). Translation from the Polish: Philip Boehm and Francine Prose.
The English translation of 'The Thaw" originally appeared in The Reawakening (Collier Books, 1987). Translation from the Italian: Stuart Woolf.
Administration: Revital Katz
Design and Production: Kesem Kibbutz Sa'ad
All rights reserved to the authors and ACUM
Our thanks to Sifriat Poalim, and Am Oved for permission to print the stories included in this publication.
The Publication of this Book was Supported by a Grant from The Memorial Foundation for Jewish Culture
© All rights reserved
Yad Vashem – The Holocaust Martyrs' and Heroes' Remembrance Authority, 1999
ORDER these documents by Email from Yad Vashem. Complete the Email by stating the items(s) you want to order. Yad Vashem will reply with the costs and mailing instructions.
---
TABLE OF CONTENTS
INTRODUCTION 3
STORIES 7
"The Thaw" Chapter 1 of The Reawakening  Primo Levi 9
"Nocturnal Variations on a Theme" Ida Fink 15
"On The Shore" Aharon Appelfeld 17
"The Tenth Man" Ida Fink 30
"The Shelter" Ida Fink 33
"Love Story" Aharon Appelfeld 39
"Henryk's Sister" Ida Fink 44
"Birds" Ida Fink 50
DISCUSSION 55
LEAVING THE CONCENTRATION CAMP GATES 57
"The Thaw"  59
"Nocturnal Variations on a Theme" 63
AFTERMATH OF THE WAR, OR "THE MODEL OF THE CLOSED CAMP" 67
"On the Shore" 70
"The Tenth Man" 77
"The Shelter" 82
THE LATTER DAYS OF JOB 85
"Love Story" 88
"Henryk's Sister" 94
"Birds" 98
TABLE of CONTENTS