Intervision Volume No.1 Child Survivors: Forms of Intervention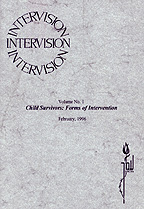 The materials contained on this page are reproduced with the permission of AMCHA
Highlighted text in the table of contents represent documents present on this site. Other listings are available and may be ordered from the publisher
You may order these documents by selecting the ORDER . That link will take you to the AMCHA bookshelf from which you may place your order.
---
The present collection of articles is the first in the Intervision series.  The series reflects the psychological thinking of psychotherapists at the Jerusalem branch of AMCHA.  Intervision constitutes an arena created to share with the wider community the specific therapeutic experience which has accumulated in the Jerusalem branch over the years.
This first volume is the result of an exciting, stimulating group effort by the authors.  The title "Intervision" attempts to express the vital importance of merging different points of view, of becoming acquainted with and understanding the specific needs of persons who experienced severe developmental trauma.
---

Volume No. 1: Child Survivors; Forms of Intervention
Dr. Yitzhak Mendelsohn, (Ed.)
AMCHA-National Israeli Center for Psychosocial Support
of Survivors of the Holocaust and the Second Generation
Jerusalem Branch
23 Hillel St., Jersusalem
Tel: 02-250745, Fax: 02-250669
e-mail: amcha@jer1.co.il
---
TABLE OF CONTENTS
ACKNOWLEDGEMENTS – i
INTRODUCTION  -1
Dr. Yitzhak Mendelsohn
Failure in Fulfillment: Psychotherapy with
the Traumatized Child and Adult Child Survivors  – 5
Dr. Yitzhak Mendelsohn
And Then, One Day … Whom Could I Tell?
Children Surviving the Holocaust During Their Latency  -21
Elisheva van der Hal
Survival: An Existential Dilemma  – 35
Yvonne Tauber
Constant Agony: An Integrative Psychotherapy of
an Adult Child Survivor  – 53
Dr. Aviva Mazor; Dr. Yitzhak Mendelsohn
Child Survivors of the Holocaust in Conjoint Group and Individual Psychotherapy – 65
Elisheva van der Hal; Yvonne Tauber
Documentation and Child Survivors' Documentation at AMCHA  – 85
Yoram Amit
Reflections on the Legitimacy of the Desire for Revenge  – 101
Ruth Gruschka