I Never Even Lived
(reposted to this site on 1/8/2002)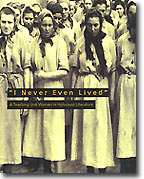 "I Never Even Lived"
A Teaching Unit – Women in Holocaust Literature
Permission to publish excerpts from this document given by:
Yad Vashem
The Holocaust Martyrs' and Heroes' Remembrance Authority
The International School for Holocaust Studies
The Israeli Ministry of Education
This unit is available in Hebrew and in English. It is recommended for high school students.
Written by: Inbar Raveh, Rotem Wagner
Educational Consultant: Mina Hochberg, Educational Materials Division
Research Consultant: Malka Shaked
Translated from Hebrew by: Lisa Katz
English Language Editor: Felice Kahn Zisken
Administration: Revital Katz
Production: Ariela Shani
Design: Portnov-Mishan
This unit was produced with the generous support of the National Yad Vashem Charitable Trust, United Kingdom and the assistance of the Memorial Foundation for Jewish Culture
All Rights Reserved Yad Vashem – Holocaust Martyrs' and Heroes' Remembrance Authority 2000
ORDER these documents by Email from Yad Vashem. Complete the Email by stating the items(s) you want to order. Yad Vashem will reply with the costs and mailing instructions.
---
Table of Contents
Introduction  3
Crossing the Red Sea by Zofia Romanowiczowa
The Title 5
Confession and the Religious Context 8
Women and Womanhood: Friendship as Apprenticeship 9
The Narrator's Self-Image 12
Relationships among Women in the Camp 13
The Power of Friendship: Survival and Destruction 14
Time and Memory 16
"Eugenia" by Ida Fink
Literary Pictures 20
The Poetics of Reconstructing Time 22
Ripe Cherries 23
Tzili by Aharon Appelfeld
A Woman Comes of Age  25
Women in the Novel: Role Models  27
The Biblical Story of Joseph: Mythic Framework  29
Katerina by Aharon Appelfeld
Encounters with Women 32
Motherhood 34
Roots 37
Summary: The Apprenticeship of Women 39
Questions for Further Study/Additional Reading 42