Hiding Places: A Father and His Sons Retrace Their Family's Escape from the Holocaust
(Posted to this site on 7/14/2000)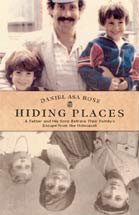 by Daniel Asa Rose
Published by Simon & Schuster
Nominated for a Pulitzer as "the most major Holocaust book of the year"
In this bold and innovative memoir, part travel narrative, part spiritual quest, prize-winning author Daniel Asa Rose describes the remarkable journey in which he and his two young sons retraced their relatives' escape from Antwerp during the Second World War and also embraced, with ample amounts of wit and irreverence, the Jewish heritage that had pained and mystified him. For all the searing pathos, however, Hiding Places is essentially a book of victory. The old Belgian aunts and uncles survived by their luck and their wits; they outfoxed Hitler. And throwing themselves into the quest, Rose and his sons triumph, too. In this luminous and large-hearted odyssey, Rose introduces the Holocaust and its lessons to a new generation and, in the process, heals his childhood wounds in a way that will resonate with all readers, Jew and non-Jew alike, who are interested in their own hidden places.
This book is available for purchase online. Click here to order online from Amazon.
"Hiding Places" is a powerful memoir of pilgrimage. The child of a Holocaust survivor, Daniel Asa Rose revisits with his sons the sites of his family's almost successful escape from the Nazis. In the process, they uncover that past and chart the future in a rich, engaging, warm, humorous, and candid story. Rose's journey of rediscovery, healing, and reunion touched me as a father and embraced me as a Jew.
Michael Berenbaum
Former President of the Survivors of the Shoah Visual History,
and Former Director of the Research Institute,
United States Holocaust Memorial Museum
How to give children a heritage that includes the Holocaust and the relatives who perished in it, or barely survived? Using the same chutzpah that served his aunts and uncles, Daniel Asa Rose brings his young sons on an adventure to discover the family's hiding places in France and Belgium. This is a daring book — often funny, sometimes embarrassing, finally frightening and moving — one that asks what it means, as a contemporary American, to take pride in one's Jewish roots.
Peter D. Kramer
Author of Listening to Prozac and Should You Leave?