Paris

Jaap and Kreen were silent all the way to Maastricht. There were just a few Nazis on board the little train they were now taking to the south end of Holland, but they were thinking about the next one. Since traveling to Paris without papers meant risking their lives in any case, they had decided that their best chance would be to hide in plain sight, riding among the Germans themselves. A German troop train would have no conductors, tickets, or border checks. There was one heading to France that made a stop in Maastricht at midnight. They planned to board it and do their best to blend into the crowd.
The blue-gray dusk of the wintry afternoon had already settled over the medieval town when they stepped off the train. Nightfall in Maastricht, like all of Europe, was unbroken by a single light that could attract the Allied bombers. The two young men wandered the cobbled streets until curfew time, 8:00 p.m. They took refuge in the men's room at the train station and waited.
Shortly after midnight a whistle pierced the stillness. With the screech of brakes the station suddenly filled with German clatter. Jaap and Kreen quickly adopted the frantic mood, and pushed their way up the steps of the train. The car they entered was packed with a full array of the German military.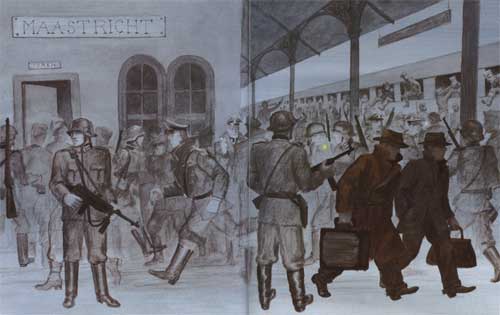 As the train lurched forward, Jaap and Kreen swayed with the masses of Nazis pressing against them. Luftwaffe, S.S., Gestapo, Security Police, and every rank of the Wehrmacht were all in the mix of uniforms. But there were also many in plain clothes, giving the cover for Jaap and Kreen's own lack of uniforms.
During the night the train slowed and stopped repeatedly as soldiers ran out and checked for bombs hidden under the tracks.
"How ironic," Jaap thought. "Our biggest danger right now isfrom our own boys in the Belgian Underground."
Nine hours later, Jaap and Kreen emerged at the station in Lille, in northern France. They found their way to a bus heading for Paris. Within a few hours they were standing in Jean-Paul's apartment, gazing out at the Eiffel Tower while he prepared dinner for them.
Jaap and Kreen were awake before dawn the next morning. The day had arrived when they would walk into the lions' den, the Nazi head office called the Pruefstelle. Whether they walked out again, with or without the papers, rested entirely on something that old Mr. Mandelbaum called chutzpah, his word for "guts."
The Pruefstelle was on the Champs Elysees, the main street of Paris. It was the central clearing office for all permits and licenses in western Europe under the Third Reich.
They decided to wait till noon before entering the Pruefstelle. Fewer people would be around and those who were might be more focused on lunch than on their jobs. If someone called the director of the construction company in Germany to verify Jaap and Kreen's letter, perhaps he would be at lunch, too. Jaap and Kreen knew there were a thousand things that could go wrong. All they could do was to try and minimize them. And hope for the best.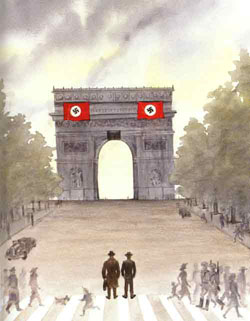 Jaap and Kreen entered the vast marble hail. It was crowded with officials and military personnel. They found the shortest line.
"Good day, miss," Jaap said to the young uniformed woman behind the counter. "I think you'll find our papers in order. We're here to obtain a—"
"One moment, please," she said with her head down, looking at their letter. She filled out a form and paper-clipped it to the letter, then set it aside. "Your travel papers, please."
"But that's what we are requesting," Jaap said evenly. "Ours, as well as the group of workers we will be leading."
The woman looked at him for a moment.
"Yes, of course," she finally said. "Please return to this window between three and four p.m."
"Will you still be here?" asked Jaap.
She nodded. Jaap and Kreen tipped their hats and walked away. They both breathed deeply when they were outside again.
"Why did you ask if she would still be there?" asked Kreen.
"To keep it simple," Jaap answered. "Re-explaining our request to another person only doubles the chances for something to go wrong."
"But she asked for our travel papers," said Kreen. "She must've been wondering how we got down here from Amsterdam without them."
"I think I put her off for the moment, but she may figure it out," said Jaap. "We'll just have to wait and see."
"They may be calling that construction company in Germany right now," said Kreen.
"If that's the case, we might as well go and have one last good meal," said Jaap. "We are in Paris, after all."
As they finished dessert, Jaap said, "I think we should go separately to pick up our papers. That way they'll get only one of us. If I'm not out in half an hour, then you'll know something went wrong. Don't stay around here. They'll be looking for you. Go to Jean-Paul and—"
"No, Jaap," said Kreen. "It's better that I go in first. If our plan fails, you're still needed to forge the cards."
They walked down the Champs Elysees until they found an outdoor cafe across from the Pruefstelle. Jaap took a seat and ordered a coffee. Kreen crossed the street and went through the revolving doors.
Jaap tried to remember how long they had waited in line the first time. He closed his eyes and wondered about his judgment. Why didn't he go first? What had he gotten his friend into? What were they thinking . . . that they could pull a "fast one" on the Third Reich? That they could fool the Nazis?
"Jaap, wake up. We did it," said Kreen quietly.
The newly issued travel permit was lying on the table in front of him. There were also blank documents for the twenty "workers" they would be leading.
"Well, I guess that wasn't our last meal after all," said Jaap.
"Guess not," said Kreen. "Let's celebrate with dinner!"
TABLE of CONTENTS