Faces of Courage: Children Who Resisted
(Updated on 9/30/2002)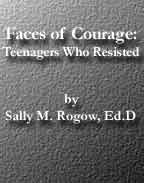 Faces of Courage: Teenagers Who Resisted
by Sally Rogow, Ed.D.
TABLE OF CONTENTS
Introduction
The Edelweiss Pirates
Franz
Berthold
Albert
Jacques Lusseyran
Jean
Karl
Noni's Escape
Annaliese
The Helmuth Huebener Group
Jacob
Louise
Yojo
Maria
Kirsten
Introduction
If there is any light in the darkness of the Nazi era, it is to be found in the courage of those who dared to fight back, to rescue others, to join resistance movements, or simply to survive. This book chronicles the stories of young people whose courage lit a candle of hope in the darkest of times.
Jacques Lusseyran was a leader in the French Resistance movement at the Sorbonne in Paris. He began his resistance efforts when he was only 16 years old. Lusseyran was blind. Jean saved the life of an American pilot in the south of France. Jean was a teenager and was deaf. Karl and Noni escaped from institutions where people with disabilities were being murdered. Young people who had any type of disability were considered "unworthy of life" by the Nazis and were removed from their homes, schools and communities. Thousands were murdered in the killing program, euphemistically called "Mercy death" or Euthanasia that took place in well-known hospitals and institutions in Germany.
Hundreds of young German boys and girls tried to resist Nazi oppression. They refused to join the Nazi Youth groups and instead joined groups like the Edelweiss Pirates. What made these young people unique was the fact that they chose to be resistors, they had choices, unlike Jewish people, people with disabilities, and other people
targeted by the Nazis for extermination. The story of Albert, Franz and Berthold reveals the fellowship as well as the hardships faced by those who refused to conform.
These stories portray the compassion and understanding of young people whose stories need to be told, and their courage acknowledged. All the stories are based on factual information and historical accounts. In those cases where the names of the heroes were not known, fictional names were used. The sources of information on which these stories are based are listed in the References.