Thou Shalt Not be a Bystander
(Posted to this site on 7/16/2001)
Editorial by Dr. Mark Nataupsky
President, Holocaust Education Foundation, Inc.
The dedication of the Holocaust Teacher Resource Center web site includes a statement that "It strives to combat prejudice and bigotry by transforming the horrors of the Holocaust into positive lessons to help make this a better and safer world for everybody." This editorial is a call to action to combat the reality that people are being captured and sold into slavery.
I met one of those captured (former) slaves in June, 2001 at the Annual Meeting of the Association of Holocaust Organizations. Francis Bok was seven years old in 1986 and he lived with his family in the Sudan. He was abducted and sold into slavery where he suffered until his escape 10 years later. There is an organization that is dedicated to stopping the cruelty of slavery. The following background is quoted from their web site:
"iAbolish is a project of the American Anti-Slavery Group (AASG), a grassroots organization founded in 1993 to combat slavery around the world. AASG has broken a virtual media blackout on slavery and helped free over 45,000 slaves. AASG Directors – including survivors of slavery—have testified to Congress three times and met twice with the Secretary of State. In September of 2000, Coretta Scott King, widow of Dr. Martin Luther King, Jr., presented the Boston Freedom Award to AASG President Dr. Charles Jacobs.

"The iAbolish web-portal has two primary objectives: to make slavery a pressing human rights concern and to mobilize a powerful anti-slavery movement. The "i" of iAbolish denotes the interactive tools used to make slavery as immediate as your computer screen, as well as the first person "I", who becomes an e-abolitionist in response. With multimedia resources and personalized activism, iAbolish harnesses the power of technology to help set people free."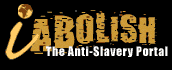 Professor Yehuda Bauer, at Yad Vashem in Israel, suggests the commandment "Thou shall not be a bystander." As Holocaust educators and students as well as concerned citizens, I believe it is the moral and ethical obligation for each of us to act and not to be silent bystanders in the presence of slavery.
Instead of being a bystander, please visit the iAbolish website to learn more about the former slave, Francis Bok, and how you can get involved to combat today's slavery.