Divided Lives The Untold Stories of Jewish-Christian Women in Nazi Germany
(Posted to this site on 1/10/2001)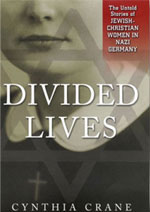 by Cynthia Crane Ph.D.
Cynthia Crane gives us universal stories of hope and survival that transcend time, race, religion, class, and gender. She helps us to feel the experiences of ten women, children of Jewish-Christian marriages, whose families were persecuted under Hitler's Third Reich. These women, denoted by Hitler as Mischlinge ("half breeds"), were subjected to an onslaught of anti-Jewish laws that divided spouses, family and friends. Relatively little has been written about the plight of Jewish-Christian "mixed" families, perhaps because of this complex and controversial split between their Jewish and Christian roots. Cynthia Crane, the Christian daughter of a Mischling, presents the compelling lives of ten "Mischling" women.
Four video clips give the viewer added insight into Crane and her book.
Additional information about the book can be seen on her website.
This book is available for purchase online. Click here to order online from Amazon.
To play a video, select one of the titles listed below the heading VIDEO SELECTIONS.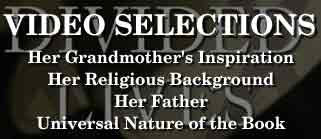 Approximate download times and file sizes using a 56KB modem are as follows:
If the videos above do not play then download the free QuickTime player.
---
"Sensitive oral histories of the suffering of Hitler's tainted Aryans, products of mixed marriages. As reflected in her bibliography, Crane (English/Raymond Walters Coll.) is more concerned with the biographic genre than the WWII period. Her account should not be compared to Holocaust memoirs like Joe Rosenblum's recent Defy the Darkness, where starvation, suicides, sadism, and murder are common. Once expectations are lowered, this Fulbright Scholar's oral histories of eight women who suffered "only" shock, anxiety, and lesser persecution may be appreciated for their less dramatic but still disturbing subtleties. The subsequent chapters and interviews grew from Crane's own family history. Her Lutheran grandfather, Felix Cohn, had Jewish genes, so his medical license was revoked and he fled Germany in the 1930s.
Typically, the Gestapo encouraged divorce and made life miserable for the remaining "impure" Aryans. In the 1950s, the author's father changed his surname to Crane and also typically, didn't reveal the family's checkered pedigree for decades. Most of the interviewees had their identity and their prospects overturned in one shocking moment when the Nuremberg Laws mudslide struck. Crane more than records these women's pained stories of exclusion and mistreatment, she depicts the sadness in their voices and eyes, and in each apartment's telling books and photos.
Ruth Wilmschen, for example, brings copious notes to read at her interview, and meticulously divides her photos between Jewish and Christian relatives. We come to understand why these women are paranoid of any form of nationalism and why issues like reparation money and the Turkish foreign presence in Germany are daily concerns. One woman enthuses about Jesus sightings, and almost all of them were baptized, but Crane makes her subjects "Jewish" and human enough. Gives a voice to the neglected Mischlings (half-breeds) and provides a significant record of both wartime and postwar Germany."
Kirkus Review, Nov. 1, 2000