David Katz – A Holocaust Survivor
(These entires were re-posted to this site on 9/15/2006)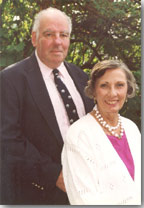 David Katz has written a brief autobiography. This work is important for many reasons. First, his autobiography serves as a testimony to what happened during the Holocaust. It also narrates part of his life before the Holocaust and the new life he built afterwards with his wife, MaryAnne. Some of her work as an artist are included on this web site.
David responds to questions about his personal experiences of the Holocaust in the video clips below.
Read David Katz's autobiography
See MaryAnne's painting "Lest we forget: The Holocaust"
See MaryAnne's painting "Death March."
See MaryAnne's painting "Faith Bridges The Pit."
See MaryAnne's painting "Butterflies Are Not Free."
Play the videos below by selecting either icon.



Learn how a priest encouraged David Katz to preserve his heritage.



David Katz remembers when he learned his parents
and grandparents were killed by the Nazis.