Contemplating the Holocaust
(Posted to this site on 12/7/2000)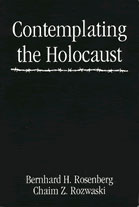 by Bernard H. Rosenberg and Chaim Z. Rozwaski
The authors write:
"The essays in this book cover a wide variety of topics, from a survivor's very personal reflections and those of a son of survivors, to the nature of the media's response during the Shoah (Holocaust) and the quest for the meaning of the tragedy of life. The essays deal with such questions as the lack of standard universal commemorative services by Jewish communities, the continuing efforts by the Catholic Church to christianize the Shoah, the commercialization of the Shoah, the attempt to de-emphasize the impact of the Shoah on the Jewish people, the historical ways in which Jews commemorated their martyrs, and the emergence of a Holocaust culture that serves as a surrogate for genuine Judaism."
The authors discuss the silence of the world during the war years, the lessons of the Shoah, the ways our dear ones died, the nature of Jewish resistance, and the Jews who survived but are lost to the Jewish people. The essays express a plea from the heart to all children who love their parents and address the question of who speaks for the martyrs of the Shoah, how the martyrs went to their deaths, Kristalnacht, and much more. The essays are a reflection of the questions that trouble all those who are concerned with the ethical, political, and theological questions raised by the Shoah.
This book is available for purchase online. Click here to order online from Amazon.