A Global Perspective on Working with Holocaust Survivors and the Second Generation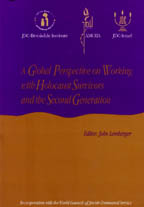 The materials contained on this page are reproduced with the permission of AMCHA.
Highlighted text in the table of contents represent documents present on this site. Other listings are available and may be ordered from the publisher.
You may order these documents by selecting the ORDER  link button located in the left margin of this page. That link will take you to the AMCHA bookshelf from which you may place your order
---
As the population of Holocaust survivors ages, their needs are becoming more complex and more acute; more attention is also being drawn to the need to understand the impact of the Holocaust on the children of survivors and provide support to this group.
This volume presents the proceedings of the Preconference Institute on Working with Holocaust Survivors and the Second Generation, held July 3-4, 1994, in Jerusalem. The interest generated by the conference and the high level of participation attested to  the importance and timeliness of the issues raised…
---
JDC-Brookdale Institute           AMCHA                       JDC-lsrael
of Gerontology and
Human Development
A Global Perspective on Working with Holocaust Survivors and the Second Generation
Editor: John Lemberger
In cooperation with the World Council of Jewish Communal Service
Jerusalem      July 1995
---
Table of Contents
Preface – Jack Habib – iii
Foreword – John Lemberger- v
Acknowledgments
I. Services and Service Needs – 1
AMCHA: The National Israeli Center for
Psychosocial Support of Holocaust Survivors
and the Second Generation: Raisons d'Etre
Haim Dasberg, Israel
The Need for Long-term Care Services Among
Elderly Holocaust Survivors Living in Israel
Haim Factor, Israel – 13
The Emotional and Physiological Issues of
Aging in North American Holocaust Survivors
Florabel Kinsler, US – 25
Community-based Services for Elderly
Holocaust Survivors
Elihu Kover, US – 51
Group Services for Holocaust Survivors
and their Families
Florabel Kinsler, US – 59
Cafe 84: Social Daycare Center for Survivors
and their Children
Hedi Fried, Sweden – 81
A Model of Integrated Psychosocial Support
of the Jews in the Netherlands
H. G. Vuysje, Netherlands – 93
Israel's Aging Holocaust Survivors
John Lemberger, Israel – 103
AMCHA's Documentation Services
Yoram Amit, Israel – 111
Helping Witnesses Tell their Story
Nathan Beyrak, Israel – 121
Agenda for the Future
II. Psychological Characteristics and Therapeutic Techniques
Survivor Guilt in Holocaust Survivors 
and their Children
Aaron Hass, US – 163

Individual Counseling Techniques
with Holocaust Survivors
Judith Hassan, England – 185
Psychosocial Effects of the Holocaust on
Survivors and the Second Generation in Poland:
Preliminary Report – 205
Maria Orwid, Ewa Domagalska-Kurdziel, 
Kazimierz Petruszcwski et al., Poland
The Sinai-Center: European Center for
Jewish Mental Services and Psychotrauma Treatment
A.J. de Jong, Netherlands – 243
Helping Elderly Survivors Cope with Aging
Judith Hassan, England – 249
Meaningful Aging: Establishing a Club for
Survivors of the Holocaust in Hungary
David Guttmann, Israel – 259
Social Work Practice with Aging Survivors
Myra Giberovitch, Canada – 277
Child Survivors: A Child Survives… and Then What?
Natan Durst, Israel – 289
Personal Therapy Group-Berlin: Experiences with a
Closed Group of Jewish, German Psychotherapists
A.J. de Jong, Netherlands – 305
III. Second Generation – 319
The Influence of Traumatic Memory in the Second Generation:
Myth or Reality?
Vera Muller-Paisner, US

Familial and Collective Identity in Holocaust Survivors
and the Second Generation
Dina Wardi, Israel – 331
Children of Holocaust Survivors: Separation Obstacles
Attachments and Anxiety
Felice Zilberfein, US – 341
The Impact of Parental Communication of Holocaust-related
Trauma on Children of Holocaust Survivors
Vivian Eskin, US – 377
An Alternative Model of Group Work with Second Generation
Holocaust Survivors
Johanna Gottesfeld, EIisheva van der Hal and Yvonne Tauber,
Israel – 391
Group Therapy with the Second Generation of Holocaust
Survivors
Rhona Strauss, Israel – 401
Short-term Therapy for Second Generation Holocaust
Survivors at AMCHA/Ramat Gan
Micha Weiss and Shlomit Schindler, Israel – 413
The Effects of the Holocaust on the Children of
Former Prisoners and Survivors
Perel Wilgowicz, France – 423
Appendix 1:Abstracts of Articles – 429
Appendix 2:List of Presenters – 453
Appendix 3:Preconference Program – 455
Appendix 4: Preconference Committee – 459